Latest Jobless Figures
Posted by scapozzola on
04/18/2009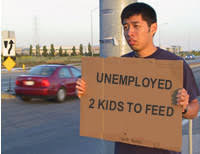 State jobless figures were issued on Friday.  A brief look at different parts of the nation reveals some troubling data
:
Texas
employers cut their payrolls by another 47,100 jobs in March and the state's jobless rate rose to 6.7% from 6.5% the previous month. Unemployment in
Wisconsin
jumped to its highest rate in 26 years in March, hitting 9.4%, up from 8.8% in February.
Georgia's
unemployment rate is holding steady in March at 9.2%.
Arizona
lost a record number of jobs in the last 12 months, pushing the state unemployment rate up to 7.8%, its highest level in a quarter century.
South Carolina's
unemployment rate increased for the 13th straight month in March to 11.4 percent, tying a record high from 1983.
Related recent Blogs